President's Message 2016
In 2015 we celebrated our 30th year as an organization.

We began in 1985-86 offering a midsummer festival and preparing Scandinavian displays for BC's 1967 Centennial celebrations. This year the 60 members of the Scandinavian Cultural Society organized many events for you across many areas of Nordic endeavour. These included arts and crafts, history and politics, literature and thought, and music and dance. Most events related to Nordic countries as a group rather than to one country individually. We hope you have enjoyed not only this year but the past 30 years of events the SCS has organized. We can all learn about and be proud of our shared heritage.

We are most grateful for the $9500 in direct financial support we received from BC Gaming Commission, the Danish Canadian Community Centre, and the City of Burnaby through its FestivalsBurnaby program. Partnerships have helped helped us maximize our funds and they also encourage community connections. When you get an opportunity, please tell our funders how their money has impacted you and how pleased you are with their support.

I want to thank our members and especially those of you who offer your help on our Board, for your tireless creative work in suggesting and developing program ideas and for the many, many hours of work you spend in putting your ideas into action. I also want to thank the SCCS Board and you, our community, for your continuing support, your constant volunteer help, and for your attendance at our events. You make our programs successful. It has been a pleasure to organize events for you in 2015.


Please take out a membership in the Scandinavian Cultural Society and/or make a donation to us. Your membership is a direct financial support through your fees and donations but it also indicates to our funders that we have a strong member base and are worthy of their support as well as yours.

Enjoy our 2016 events.



Photographs and Photo Albums


Find photographs and articles from events in 2015 in our 2016 Newsletter, and events from 2014 in our 2015 Newsletter. Then take a moment to enjoy some photographs from our events in 2013 and 2012 in our photo albums below…
Photos from the 2013 Nordic Art & Photography Show here.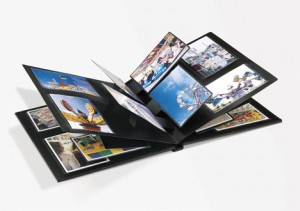 And for a comprehensive photo gallery of Scandinavian Cultural Society events, you'll find our 2012 photos by clicking here.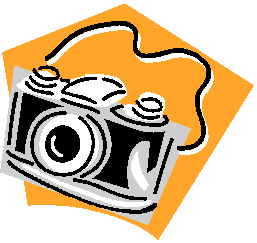 For best viewing, click on a thumbnail of a photo. The photo will enlarge. Use the arrows at the bottom of the photo to scroll to the next photo. When you're done, simply click on the photo to close it.
Enjoy!
Latest News
The Scandinavian Cultural Society's show Nordic Design: Textile and Costume February 27 and 28 will display both handcrafted and machine made fabrics and new and heritage clothing made or designed by people of Nordic countries. Heritage folk costumes are beautiful and still used, but modern Nordic clothing has also come to the front of world fashion. Our show is a chance to learn about and be proud of our Nordic heritage in clothing and in textile manufacture and design.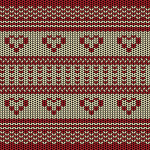 We will display anything of interest, both modern and heritage item. Fabrics and clothes will be hung or entered in the Saturday evening fashion show. Glass display cases will keep smaller or more valuable items safe. We promise to take very good care of your things as we have in the past. We plan a separate display of hats, aprons, and shoes.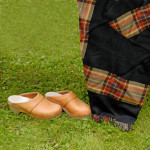 We also want to borrow YOU. Wear an old or new Nordic design and walk in our Saturday evening fashion show. We are open to anything of interest: a folk costume, a Nordic wedding dress, stylish children and babies, mod teens in street clothes, guys in skiing, fishing or working clothing. Guy clothes are needed for the displays and fashion show as well. Men can wear casual, sport, or work clothes. We are especially interested in industry work clothing that fishermen and loggers wore in the old days. Or something from the oil platform today! We want everyone with a Nordic sweater to parade in the climax of the show. Think Helli Hansen, H and M, Norwegian curling pants! You don't have to have the whole outfit—just some pieces. We hope Kosti Uusikartano brings his Finn boots with curled up toes made by his dad from a cow on his farm. We enjoy looking at our heritage designs and will be proud to see whatever you can bring.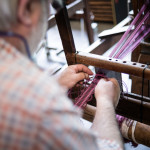 We will be working in country groups with one or two people coordinating both display and fashion show offerings from each country. We need people for demonstrations and talks every afternoon. The knitters club will attend. Weaving and maybe tapestry and embroidery may be set up. Viking people didn't knit, but Reik Felag folks may show us other Old Norse fabric crafts. Here are our
Coordinators:
Norway: Aslaug Boulier, aaslaug@telus.net
Sweden: Agneta Eineigel, peter_eineigel@telus.net and Astrid Switzer, switzer9160@shaw.ca
Finland: Diane Kilback, dkilback@telus.net
Iceland: Gerri Macdonald,  gerrimcdonald@shaw.ca
Denmark: Inger Luth, elsinor@telus.net
Sami:
Norse: Linda Woodcock
Hats, boots, aprons: Carolyn Thauberger cthauber@gmail.com 778 228-2334
Check our website for information and updates. Offer to help. Plan to come. Enjoy being proud of our shared heritage in textile and costume.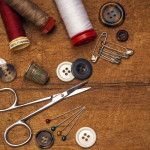 For exciting information and the latest news from the Scandinavian Cultural Society, take a look at our 2016 Newsletter.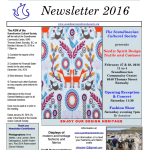 Here you'll find our current articles and photographs, as well as information on upcoming events.
In the Archives:
Click here for our 2015 Newsletter.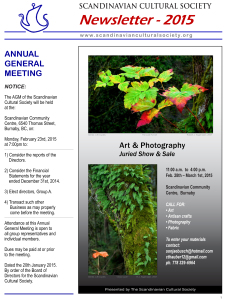 Click here for our 2014 Newsletter.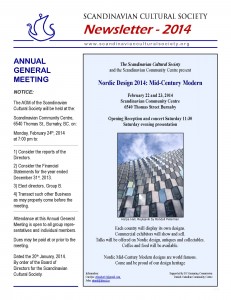 Find our 2013 edition here: 2013 Newsletter.